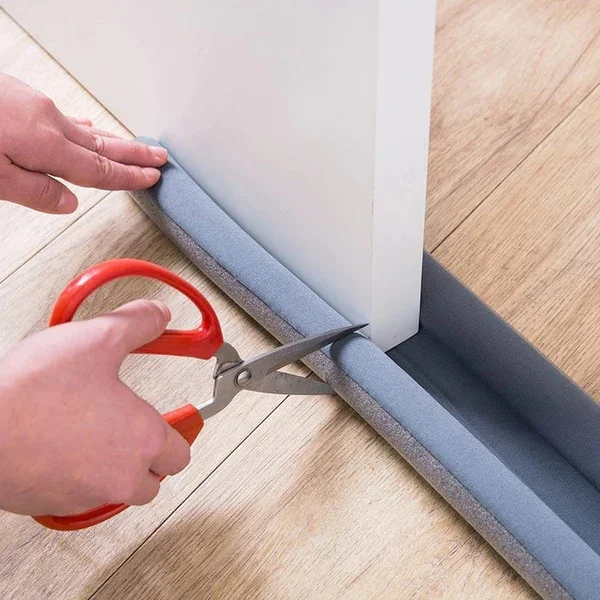 ${data.index + 1}/10
Description
Seal all large/tiny door gaps to Keep your House clean, cozy & quiet
This Flexible Twin Draft Guard will keep your homes insulated by protecting both sides of the door or window with its high-density foam.
It keeps the cold air outside from getting in the house and it retains the warm heat inside, thus conserves energy and reduces home heating and air conditioning bills. 
We absolutely HATE how cold it gets in our houses during the winter.  give this a try — so smart!
High-Quality Material : This door gap blocker is made from strong, durable foam cotton + EPE, waterproof, detachable cloth bag, can be repeatedly washed and used, can be machine washed.

Perfect for any door: Jumbo-sized foam tubes are perfect for blocking extra-large gaps under your door! Perfectly seal any gaps of front door, back door, garage door, basement, bedroom door, bathroom door. 

Smooth Gliding: Easily glides over carpet, wood, tile, linoleum and more without jamming against floor surfaces.

Cut to get Perfect Size: Fits doors/windows up to 36 inches length. Foam tubes and vinyl can be cut down to fit narrow doors.

Easy Installation: Simply take off the sticker cut the strip according to the length of the door and slide it.
Why you'll love this door stopper

:
Door Cold Air Stopper : Reduce drafts. Cold air stays out and heat stays in.

Save Energy Door Draft Guard : Helps to reduce energy bills down by keeping the cold outside and heat inside

Sound Proof Noise Reduction :  Our door draft blocker can help reducing noise, keep your room from dusty and outside light, give you a delightful space.

Comfortable Indoor Environment : Twin stoppers design more efficient and durable. Stay room warm during winter and room cool during the summer with the door draft stopper.
Specification

:
Materials: EVA + Foam

Length: 100cm

Color: Brown

Size: As below
Available Offers

:
Pack of 2 (Total 2Pc)
Pack of 3 (Total 3Pcs)
Pack of 4 (Total 4Pcs)
Frequently Asked Questions

:
1. How thick is the foam and is it solid?
A: It is very thick and solid in structure.
2. Do we have any color option for this product?
A: No sir/mam, We have only brown color in stock.
3. Does this effectively keep mice out?
A: Yes it does. That was one of the main reasons why I got this. I haven't seen any mice since getting this.
4. Will this work for a 31" door?
A: Yes it will. It's 36 inch long. So you can always cut it to the size of the door
5. Is this product appropriate (durable) for an outdoor door?
A: of course, it is waterproof.
6. My door is 1.50" thick - will this fit?
A: Yes. This definitely fits a 1.50 inch door.